Preserving History
Tearing down a 2,000 sq. ft. historic home results in a lot of refuse; renovating such an historic structure saves the same amount of new materials required for the replacement home. Recycling the old fashioned way. We've rehabilitated some historic homes where it wasn't economically justified. We're okay with that.
More avocation than vocation, Capstone will selectively undertake restoration of significant historic structures in order to help preserve Athens County's architectural and cultural heritage.
Here are four such historic treasures restored by Capstone in four distinct communities that each provides a different portrait of our local past:
1820 Josiah True House in Truetown (Glouster)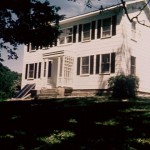 Josiah True built his saltbox style home in 1820 on a large farm in the center of the hamlet that today bears his name, Truetown, near the Glouster/Trimble area. Remarkable less for the architecture of the home than for what happened inside its wall, the True House not only contains a small library room that served as a branch of the famed Coonskin Library, but was also a critical way station on the underground railroad.
Vacant and near collapse by the 1980s, under the leadership of Capstone (then Athens Builders Guild) master craftsman John E. Smith the True House was restored in 1993 to its original sturdy dignity in the heart of Truetown.
1807 Dorr/Funk House (Athens)
*Athens oldest frame house*

William Dorr, a revolutionary war veteran, was given 600 acres between the Hocking River and what is now Route 33 for his war service in the late 1700s. He gave four of those acres to his son Michael, a champion wrestler who once walked all the way to Kentucky to defeat a Bluegrass adversary. Michael built Dorr House (pictured above) in 1807 and that is today the oldest frame house in Athens County. Dorr house sat empty until 1995 when Earl and Pat Funk renovated the property with painstaking effort to preserve the historic structure. Preserved features include 2' wide floor boards, 180-year-old milkweed paint, wooden nails, and original lead nine over six windows, to name a few. Today the house stands as a preserved house from the Ohio frontier that is now over 200 years old.
Baird Stuart Estate (Nelsonville)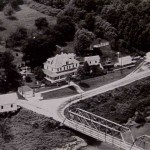 What today is Hocking College all the way to the Southeastern Ohio Correctional facility was once R. Baird Stuart's farm. Stuart, a businessman and coal mine operator, was born in 1895 and established his home just across the Hocking River from Nelsonville at the Riverside Drive/Robbins Road junction. A bustling hub of activity in its time, Stuart's mammoth 4128 sq. ft. home was at the center of rental houses the length of Robbins Road, a carriage house, a dry goods store at 100 Robbins Road, and sprawling orchard.
Before his death in 1976, Stuart created a will that established the Baird Brothers Co. Foundation with the decree that its sizable trust be distributed back to the City of Nelsonville in donated increments. Since that time the Baird Foundation has served as a vital resource with impact throughout the Nelsonville community.
Converted into apartments in the 1970s, Capstone restored the original Baird Stuart home in 1998.
Dr. Sprague's medical office and home (Chauncey)
Any Chauncey resident from the early 1900s through the 1960s will undoubtedly have known Dr. Sprague and where to find his medical office. Dr. Warren Sprague graduated from Starling Medical College in 1902 and set up practice in his large home at 18 Main Street in Chauncey right in the middle of the action. As the practice grew he added an adjoining brick building next door at 20 Main Street for his practice connected to his home by a passage way. It made for a very short walk home for lunch.
Acquired in 2012, Capstone is renovating both the home and medical office to preserve not only a key part of Chauncey's architectural past but a quintessential reminder of small town medical practice in the early 1900s.