Stewardship
The 30-acre Athenian Park is a preserved wilderness that serves as a woodland gateway welcoming visitors into Athens. A gift from the Funk family, Athenian Park symbolizes the commitment to Southeastern Ohio woodland stewardship, sustainable environmental practices, and community involvement that has been a Capstone constant since 1987.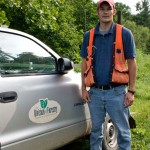 In 1900 only 4% of Ohio was forested. Today, abandoned farms have allowed woodlands to return, and yet careful and planned stewardship is often quietly behind the emergence of many of Southeastern Ohio's magnificent forests. Since 1987 Capstone has planted 80,000 tree seedlings in Athens County, manages five certified US FAMILY FORESTS, and is a staunch steward of both managed woodlands and wilderness areas.
A member of Southeast Ohio Woodland Interest Group and active in the Ohio Tree Farm program, Capstone is passionate about ongoing annual plantings of native Southeastern Ohio hardwoods with the hope to cultivate renewed woodlands that will serve as examples of good forestry management and provide wildlife habitat and recreational enjoyment for future generations.